Weber Ford Granite City Finds Success Developing Techs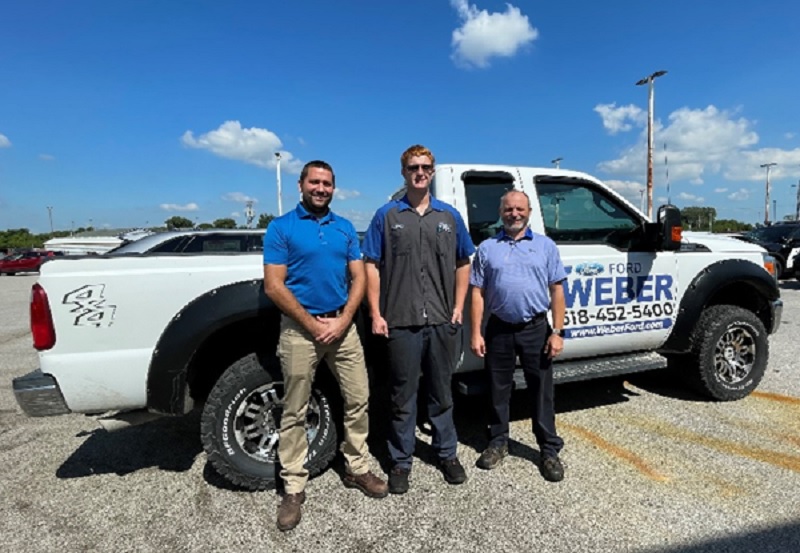 Image: Chris Mathus, Dylan Moore, Rob Smith
St. Louis, Mo. – First-year technician Dylan Moore couldn't be any happier when he considers the career path he's followed since meeting Rob Smith, Weber Ford Granite City's service manager, during a technician recruiting event in Fall 2021.

When Moore attended the National Hot Rod Association's (NHRA) Youth & Education Services (YES) Event in St. Louis, he was a student at Lewis and Clark Community College, where he participated in the New Ford Tech Automotive Career Exploration (ACE) program. Moore explains that his teacher's guidance led him to a bright future at Ford.

"My automotive technology teacher, Chris Reynolds, strongly recommended that I attend a recruiting event that was scheduled around the St. Louis NHRA race," recounted Moore. "I took his advice, listened to one of the Ford drivers talk about technician careers, and I went to the Ford area where a bunch of dealerships were talking to students. I met Rob there, and after talking about Weber Ford's opportunities and my goals we agreed to follow up. I was really hoping our conversation would turn into something for me."

Within two weeks of that meeting, Moore got in contact with Smith, who was excited to have found a promising new technician.

"My first impression of Dylan was that he was serious about this line of work. He was taking some of the Ford training at school and he was eager to put that to use. My next step was to find a creative way to get him into our shop considering he still had another semester to go at college."

Smith contacted his local union representative to see how they could manufacture a role for Moore. They both recognized the need to invent a way to recruit talented young techs and quickly found a solution. Moore became the first part-time tech in Smith's 30-plus years in the business.

"Rob has been awesome," exclaimed Moore. "I can't thank him and the union enough for creating this opportunity for me and others in a similar position. It worked out perfectly where I could make progress on my degree during the week, and then go into the dealership at night to start my Ford training. After I moved to full time early in 2022, I was able to get more of my certifications done and earn a promotion a few months after that. It's really been an outstanding environment here."

In addition to being a quick learner and very dependable technician for Weber Ford, Moore is paying dividends as a technician recruiter too. One of his former college classmates, Jeremy Young, was working at a nearby tire shop this past summer. Moore suggested that his friend should stop by to talk to Smith about a more rewarding position. Fast forward a few months and Smith's trip to the track in 2021 has turned into two exemplary young techs.

"Like most dealerships, we're always looking for talented, reliable technicians, so finding Dylan and Jeremy has been great," said Smith. "They're fast learners and have developed good habits to help us keep cars on the road and our customers happy."

"We recruit techs in a variety of ways – job sites, word of mouth – but it's a privilege to have this NHRA YES Program in St. Louis," noted Smith. "I just went to the 2022 YES event a few weeks ago and I met a handful of prospects that I plan to contact. Overall, these kinds of recruiting events are valuable because it's a chance to build a relationship with the teachers at the high schools and technical colleges where future automotive techs are getting their start."

Ford estimates there is a need for over 80,000 automotive technicians annually across the industry. Ford offers many avenues for entry into a career as a Ford/Lincoln technician through New Ford Tech. High school students interested in becoming Ford or Lincoln automotive technicians have opportunities to continue their education at over 75 post-secondary training locations throughout the country, including the Ford Automotive Student Service Educational Training (ASSET) program and Ford Accelerated Credentials Training (FACT) program.

About:

Ford has sponsored the NHRA YES Program since 2018. Overall, the NHRA hosts 15 YES events at racetracks across the country. Local Ford and Lincoln dealerships send service managers and vehicles to each of the Friday morning events to meet with high school and technical college students with an interest in automotive careers. Bob Tasca III, driver of the Ford Mustang Motorcraft/Quick Lane Racing Nitro Funny Car, also speaks to students about career opportunities for automotive technicians. The NHRA takes the lead on coordinating with the schools to draw more than 30,000 students to the events each year. There is also a virtual YES Program for students and schools that are not close to the NHRA tracks.

Tasca addresses need for techs here. YES Program is part of New Ford Tech's grassroots approach to grow the automotive service technician trade, where our dealers build relationships with their local automotive schools and communities. Our dealers are participating in school advisory boards, career fairs, and allowing students the opportunity to job shadow and take a dealership tour with their parents.